Keeping Your Eye on the Financial Prize
Have you ever found yourself so wrapped up in the battle that you forget what you're fighting for?
Like a bride who becomes so engrossed in dresses, favors and wedding plans that she fails to prepare for the actual marriage, we can all find ourselves focused on the process instead of the ultimate goal.
This is perhaps especially true when it comes to money.
You probably have a personal or family financial goal. In fact, you probably have quite a few. Hopefully, you also have some sort of roadmap that's helping you achieve those goals. And that's a good thing.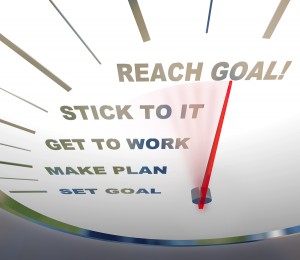 Just one quick word of caution: don't bury your head in the roadmap so deeply that you lose sight of your destination.
Perhaps your goal is to become debt free. It's an excellent goal. But then what?   Why do you want to be financially free, and what are you going to do with your newfound freedom? Simply desiring to owe nothing and to have some cash stored away isn't wrong; it's just incomplete.
If you haven't already done so, it's vitally important to take a look at the big picture.
Dream. Set goals. Write them down. And keep them in front of you.
When you're finally financially free, there are endless possibilities as to how you can use your freedom. Do you want to buy a house for your family? Go on a mission trip? Finally take that vacation your husband or wife has been talking about for years? Perhaps you want to give generously to someone who's struggling. Or fund your child's future education. Or quit your office job to do what you love.
Whatever your goal, you must keep it in front of you or risk getting lost in the details.   I write from experience. I wanted so desperately to dig out of debt that I became obsessed with the process.
A certain level of intensity is necessary when you're thousands of dollars in the hole, but boundaries are necessary, too. So, whether you're paying off debt, socking away cash for a rainy day or working to beef up your retirement savings, go ahead and celebrate the wins.
Enjoy the process. But never forget to keep your eye on the prize.